Hey there, K-pop fans and concert-goers! Are you ready to dive into a world of electrifying music, mesmerizing performances, and fan-fueled energy? We know you are! But hold on a second – have you figured out what to wear to that upcoming K-pop concert circled on your calendar for weeks?
Our fashion advice covers everything from ARMYs and EXOs to ONCEs and ONEs. Get ready to slay the style game while showing your bias some love.
Are you intrigued? Well, you better be because we're about to unravel the ultimate guide to concert fashion that will leave you looking as hot as your bias's high notes.
KEY TAKEAWAYS
For a trendy and vibrant look at a K-Pop concert, consider wearing high-waisted jeans, a graphic K-Pop band tee, sneakers, and accessorize with statement jewelry and a bucket hat.
Don't forget to bring along a light jacket or hoodie in case the venue gets chilly!
The Perfect Attire for What to Wear to a K-Pop Concert
Attending a K-Pop concert is not just about the music – it's an opportunity to showcase your fandom with style! The exhilarating performances and energetic atmosphere call for an outfit that's equal parts trendy, comfortable, and expressive.
| K-Pop Style | Outfit Description |
| --- | --- |
| Idol-Inspired | Ripped jeans, oversized graphic tee, sneakers |
| Streetwear | Cargo pants, crop top, chunky sneakers |
| School Uniform | Pleated skirt, blazer, loafers |
| Athleisure | Track pants, sports bra, sneakers |
| Edgy Rocker | Leather jacket, band tee, combat boots |
| Kawaii Style | Pastel-colored dress, platform sneakers |
Table: Outfit Ideas for a K-Pop Concert
Let's jump into the art of curating the perfect ensemble that captures the spirit of K-Pop while keeping you ready to dance and sing along all night long.
The Denim Diva
Denim jeans are a staple for any outfit and are perfect for a K-pop concert. Pair them with a denim shirt or jacket for a fabulous and stylish look. Make sure to choose durable and sustainable denim from ethical brands.
Zipped Denim Cropped Vest by Etsy on Pinterest
Crop Tops
Crop tops are a must-have in the trendy K-pop look. They can transform any regular outfit into a unique and fashionable look. Choose from various colors and patterns to show off your style at the concert.
Asymmetrical Hem Halter Top by Shein on Pinterest
Mini Skirts
Show off your long legs with a cute and feminine mini-skirt. Combine it with a classic top for a Korean-inspired outfit that will make heads turn. Go for unique and original designs to stand out.
Khaki Cargo Mini Skirt by TOBI on Pinterest
Harem Pants
Wear lightweight, stylish harem pants that fit perfectly with any modern K-pop concert outfit. They are super comfortable and effortlessly make you look fabulous. For a trendy Korean-inspired look, wear oversized and loose-fitted pants.
Stylish Fishnets
Add an original and sexy touch to your casual look with attractive fishnet stockings and tights. Choose high-quality and sustainable options to look super attractive while caring for the environment.
Rhinestone Decor Fishnet Tights by Shein on Pinterest
Denim Dungarees
Take your fashion statement to the next level with denim dungarees and overalls. They are comfortable, easy to wear, and protect you against the elements. Rock a sustainable and trendy pair at your next K-pop concert.
Long denim dungarees by Mango on Pinterest
Wide-Leg Pants
Wide-leg pants and jeans are ideal for dressing well at a K-pop concert. They are comfortable, fashionable, and offer generous legroom. You can easily create contemporary outfits with these trendy pants.
Sage Green Wide Leg Pants by CHICWISH on Pinterest
Sequin Sensation
Want to command the spotlight? Get a sequin sensation that catches every glimmer of light. Whether a short dress or a floor-length stunner, sequins are your best friends for that dazzling effect.
Navy Blue Sequin Dress by Lulus on Pinterest
Denim Jackets
If you want to add a stylish touch, go for a denim jacket. It's a classic piece that can drastically improve your dressing style. Choose from various styles and pair them with any outfit to achieve a modern and fashionable look.
Long Sleeve Casual Denim Jacket by eBay on Pinterest
Neon Nirvana
Do you want to make a statement that's impossible to ignore? Opt for a neon jumpsuit or romper, then light the night with holographic makeup and chunky, eye-catching jewelry.
Neon Lime Buckle Belted Jumpsuit by Shein on Pinterest
Oversized Blazers
Stand out and look put together with a colorful oversized blazer at a K-pop concert. Pair it with classic dress pants for a pretty and fashionable look. You can choose organic or recycled-fabric blazers that are high-quality and sustainable.
Oversize-Blazer by NA-KD on Pinterest
Denim Shorts
Embrace a chill and sexy vibe with adorable denim shorts. They are perfect for a K-pop concert and can be paired with various tops for a fresh look. Choose comfortable and sustainable options for a fabulous and relaxed outfit.
Ripped Raw Trim Denim Shorts by Shein on Pinterest
Boho Beauty
If carefree vibes are your thing, then a flowy maxi dress is your best friend. Add layers of bohemian jewelry and step into ankle boots. You'll be the embodiment of whimsy and wanderlust.
V-neck Short Sleeve Bohemian Dress by Homewode on Pinterest
Comfy Leggings
Add stylish and unique tights or leggings to your K-pop concert outfit for ultimate comfort. They are perfect for any casual and modern style and make a great addition to your wardrobe.
Flutter leggings by Beastinbeauties on Pinterest
Velvet Vixen
Velvet screams luxury, and you deserve nothing less! Slip into a velvet dress that hugs your curves and makes you feel like a million bucks. With its rich texture, you'll have everyone longing to touch and feel.
Black Velvet Mini Dress by ART OF CB on Pinterest
Printed Tees
Stand out from the crowd with unique printed tees that show off your interests and personal style. Put on authentic pieces that nobody else is wearing and showcase your originality.
DEF TIRED Shirt by Etsy on Pinterest
Flannel Shirts
Complete your K-pop concert outfit with a well-fitting flannel shirt. They are a fashion staple for the classic K-pop look and will help you look fabulous and stand out. Choose affordable options that fit your style.
Bleach Distressed Upcycled by Etsy on Pinterest
Step Up Your Shoe Game
Now, let's explore how to find the perfect balance between fashionable kicks and practicality, ensuring you're well-prepared to dance the night away in the ultimate K-Pop fan experience.
Glam Rock Glitter Boots
Glitter boots are the ultimate game-changers, adding a touch of glamor and drama that's perfect for the concert stage. Go for gold, silver, or bold colors to shine like a diamond.
Silver glitter ultra rare platform boots by Etsy on Pinterest
Work Boots
Wear durable and chic work boots to look stylish and feel comfortable. They are perfect for crafting an original K-pop concert outfit that stands out. Anyone can rock these boots and look like a K-pop star.
Dixon Western Boot by Ariat on Pinterest
K-Pop Twist on Classic Converse
Converse is the ultimate canvas for your creativity! Customize them with your bias's name, group logo, or favorite song lyrics. These sneakers let you flaunt your unique fandom while staying comfy and cool throughout the concert.
Converse Madison Mid-Top Sneakers by Shoe Carnival on Pinterest
High-Top Combat Boots
Are you the kind of fan who's all about those intense dance moves and edgy attitudes? High-top combat boots are here to fuel your rebellious spirit. These bad boys (or girls!) add a touch of rocker-chic to your ensemble, turning heads and making you the talk of the concert.
Buckle Decor Side Zip Combat Boots by Shein on Pinterest
Chunky Platform Sneakers
Channel your inner idol with a pair of chunky platform sneakers. They add height and give you a stylish edge while keeping you comfortable throughout the concert.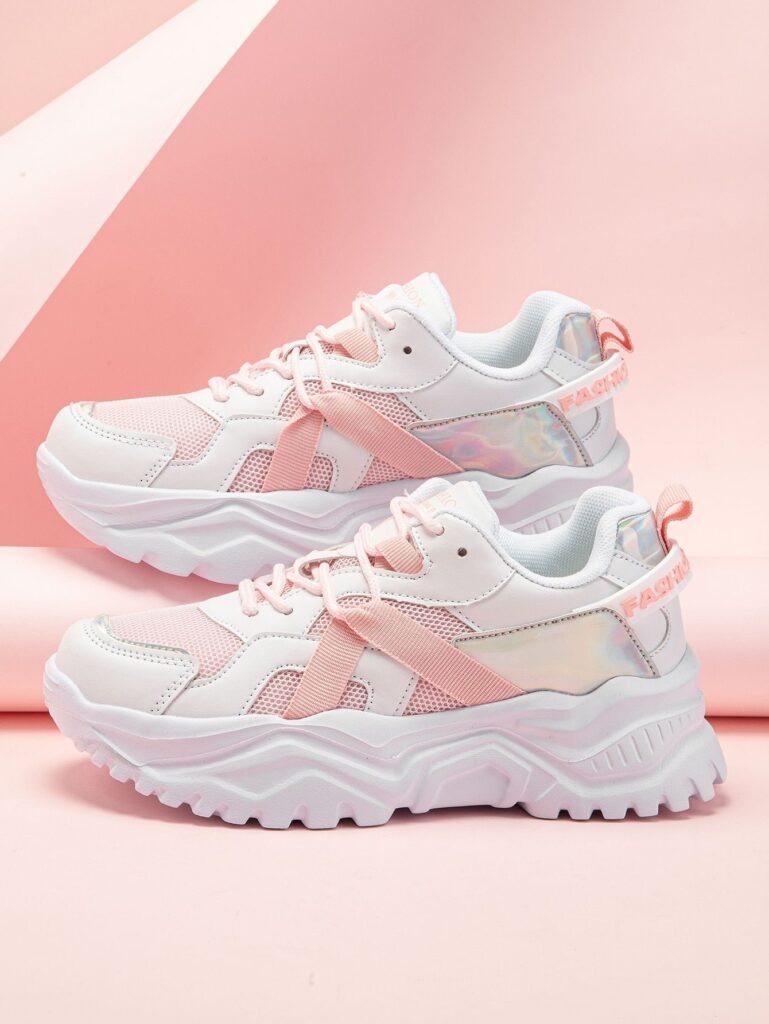 Colorblock Lace-up Front Chunky Sneakers by Shien on Pinterest
Sleek Ankle Booties
Looking for something sleek and stylish? Ankle booties are your best friends. They balance elegance and fierceness perfectly, letting you dance the night away while keeping your fashion game on point. These versatile gems can be paired with anything from skirts to jeans.
Chase Black Pointed Toe Ankle Booties by Lulus on Pinterest
Accessorize Like a Pro
| Accessory | Suggestions |
| --- | --- |
| Statement Earrings | Funky hoops, oversized studs |
| Fanny Pack | Holds essentials and adds a trendy touch |
| Baseball Cap | Sporty accessory to complete the look |
| Light Stick | A must-have for a true K-Pop concert experience |
| Choker Necklace | Adds a touch of edginess to your outfit |
| Bucket Hat | Adds a playful vibe to your ensemble |
Table: Accessory Suggestions for a K-Pop Concert
Earrings That Steal the Spotlight
Earrings can transform your look from ordinary to extraordinary. If you're feeling playful, try a quirky stud or a statement dangler that catches the light when it's tilted. Remember, bigger is always better when it comes to concert bling!
Gold Filigree Earrings by Etsy on Pinterest
Hair Accessories that Sparkle and Shine
Your hair deserves some love too! Bedazzled hairpins, headbands, and scrunchies are perfect for your concert outfit. Add sparkle to your locks, and watch as you become a walking disco ball.
Rhinestone Hair Clip by Aveuri on Pinterest
Sunglasses: The Ultimate Star Power
Want to add an air of mystery and celebrity vibes? Slide on some oversized shades and channel your inner superstar. You'll look effortlessly cool and protect your eyes from those dazzling stage lights.
Dior Gaia Oversized Sunglasses by ModeSens on Pinterest
Layered Necklaces: The More, the Merrier
Necklaces are like your personal style storytellers. Layer different lengths and styles to create a unique narrative that tells the world who you are as a fan and a fashionista. Mix and match textures, pendants, and charms for that enviable neck-party effect.
Boho Multi Layered Necklace by Etsy on Pinterest
Wrist Party with Bangles and Watches
Your wrists are a blank canvas waiting for your creative touch. Stack bangles, cuffs, and watches for a dynamic and stylish look. These wrist accessories add flair and keep you on schedule – just in case you lose track of time dancing to your bias's tunes!
Leather Wrap Around Watch by Etsy on Pinterest
Chic Berets and Caps
Top off your concert looks with a beret or cap that screams, 'I'm here to slay!' Whether it's a sophisticated beret or a trendy snapback, you'll effortlessly blend style and swag while dancing the night away.
Pearl Embellished Beret by Etsy on Pinterest
Belt Bags for Hands-Free Fun
Let's face it: concerts are all about moving and grooving. A belt bag lets you do just that while keeping your essentials close at hand. Choose a pack with a pop of color or a bold design that compliments your outfit and personality.
Stylish Crossbody Belt Bag by Carmen Candela on Pinterest
FAQs
What's the Most Important Thing about Concert Attire?
Confidence! No matter what you wear, rock it with confidence and have a blast. Your enthusiasm and energy are what truly shine during the concert.
What about Makeup and Hair?
Go for makeup that enhances your features and compliments your outfit. Glittery eyeshadow, bold eyeliner, and vibrant lip colors can all add a touch of K-Pop glam.
| Makeup Look | Description |
| --- | --- |
| Glitter Glam | Sparkly eyeshadow and bold glitter lips |
| Gradient Lips | K-Pop staple: two-toned lip color |
| Winged Eyeliner | Classic and sharp for an edgy vibe |
| Aegyo Sal | Enhances the "cute" look with puffy under-eye |
| Smoky Eye | Adds drama and intensity to your makeup |
| Colorful Eyeliner | Vibrant and bold for a unique look |
Table: Makeup Looks for a K-Pop Concert
As for hair, anything from playful accessories to style updos can make you stand out.
| Hairstyle | Description |
| --- | --- |
| Space Buns | Fun and playful with a K-Pop twist |
| Sleek Ponytail | Chic and keeps hair out of the way |
| Colored Hair | Temporary hair color for a bold look |
| Half-Up Pigtails | Cute and youthful with a touch of retro |
| Side-Swept Bangs | Adds a soft and stylish touch to your look |
| Messy Waves | Effortless yet stylish for a relaxed vibe |
Table: Hairstyles for a K-Pop Concert
Can I Wear Heels to a K-Pop Concert?
While heels can add a touch of glam, consider comfort as well. If you're confident you can dance and stand for hours in heels, go for it. If comfort is more important to you, go for sneakers, platform boots, or ankle booties.
Wrapping Up
And there you have it, K-Pop aficionados! The curtain is about to rise on an unforgettable concert experience, and you're all set to steal the spotlight with your killer outfit. You've got the fashion game on lock, from glittering boots to statement accessories.
So go ahead, dance like nobody's watching, sing your heart out, and let your outfit be an extension of your passion for K-Pop.
Remember, it's not just about what you're wearing; it's about the energy you bring, the love you share, and the memories you create. It's time to embrace the music, the style, and the magic of K-Pop like the trendsetter you were born to be!