Calling all Stevie Nicks fans, fashionistas, and boho babes! Are you ready to unlock the enchanting secrets of Stevie's iconic style and cast a spell at her concert? We get it; the struggle is real – staring at your closet, wondering how you're going to channel your inner Rock Goddess without sacrificing comfort or fashion finesse.
We're talking fringe that flirts with the wind, boots made for stomping, and shawls that dance to their rhythm. Whether you're a die-hard Fleetwood Mac fan, a bohemian soul, or someone who wants to infuse magic into their wardrobe, you're in for a wild ride.
Picture this: you're standing in front of your mirror, the excitement of the upcoming concert coursing through your veins, but that dreaded question pops up – "What. To. Wear?" We are unraveling the threads of her signature look so you can waltz into that concert hall feeling like the Bohemian Queen you were born to be.
KEY TAKEAWAYS
For a Stevie Nicks concert, channel her iconic style by wearing flowy bohemian dresses, layered scarves, and platform boots.
Accessorize with statement jewelry and embrace a free-spirited, vintage-inspired look that captures the essence of her music and persona.
Channeling Stevie's Vibes: Understanding Her Signature Look
The Bohemian Queen
Channeling Stevie's love affair with flowing fabrics, delicate lace, and swaying fringe isn't just a style choice – it's a way of life. Imagine the freedom of dancing through the night in a dress that seems to float on air, every movement like a poetic dance.
Stevie's aesthetic is about embracing your inner wild child, letting your spirit flow as freely as those dreamy layers.
So, don't be afraid to let your inner boho spirit run wild – embrace those flowing silhouettes, drape yourself in lace, and let fringe whisper secrets to the wind.
Mystical Accessories
Now, let's talk accessories – the magical touches that take your ensemble from ordinary to spellbinding. Stevie's a thing for hats that scream "Look at me," scarves that flutter with charisma, and statement jewelry that tells a story.
A wide-brimmed hat perched atop your crown can transform you into an enchantress from another realm. Throw on a scarf – it's not just an accessory; it's a statement of your artistic soul.
And as for jewelry? Think bold, think intricate, think pieces that seem like they hold a secret power. These elements will infuse your outfit with that unmistakable Stevie energy.
Layering Magic
Ah, the pièce de résistance – Stevie's mastery of layering. It's like she harnessed the power of the universe and wrapped it around her in the form of fabric. Don't hold back – mix textures like a fearless artist, pile on patterns like a rebellious poet.
Stevie's layered look isn't just about keeping warm – it's about layering stories, memories, and dreams. So, drape that shawl over your shoulders, throw on that fringed vest, and swirl into the night, knowing that you've captured the essence of Stevie's style in every layer.
15 Wardrobe Staples for The Stevie Nicks Experience
We're talking about 15 wardrobe staples that'll have you twirling and spinning, just like the Fleetwood Mac queen. So, grab your tambourine, and let's get started!
| Outfit Ideas | Description |
| --- | --- |
| Boho Chic | Flowy dresses, layered jewelry, and ankle boots. |
| Rock Goddess | Leather jacket, lace top, ripped jeans, and heels. |
| Vintage Vibes | Bell-bottom pants, fringe jacket, and platform shoes. |
| Gypsy Glam | Velvet maxi dress, wide-brim hat, and statement belt. |
| 70s Inspired | Flared pants, graphic tee, and retro accessories. |
Table: Stevie Nicks-Inspired Outfit Ideas
Flowing Boho Dresses
Stevie Nicks is the ultimate bohemian goddess, and flowing maxi dresses are her signature. Think delicate lace, ethereal prints, and bell sleeves that capture the spirit of the '70s.
Boho Puff Sleeves Women Maxi Dress by Narachic on Pinterest
Fringed Shawls
Wrap yourself in mystery with a fringed shawl that adds drama and movement to your look. Opt for a light and breathable fabric like silk chiffon or linen. Black, gold, or burgundy are recommended colors for an evening concert. Draped over your shoulders, it instantly nods to Stevie's captivating stage presence.
Women's Vintage Fringed Shawl by Etsy on Pinterest
Platform Boots
Adding a witchy vibe to your outfit can be achieved with platform shoes. Opt for boots, sandals, sneakers, or heels to elevate your look. Choose close-toe platforms for a Stevie Nicks concert; comfort is crucial when selecting them.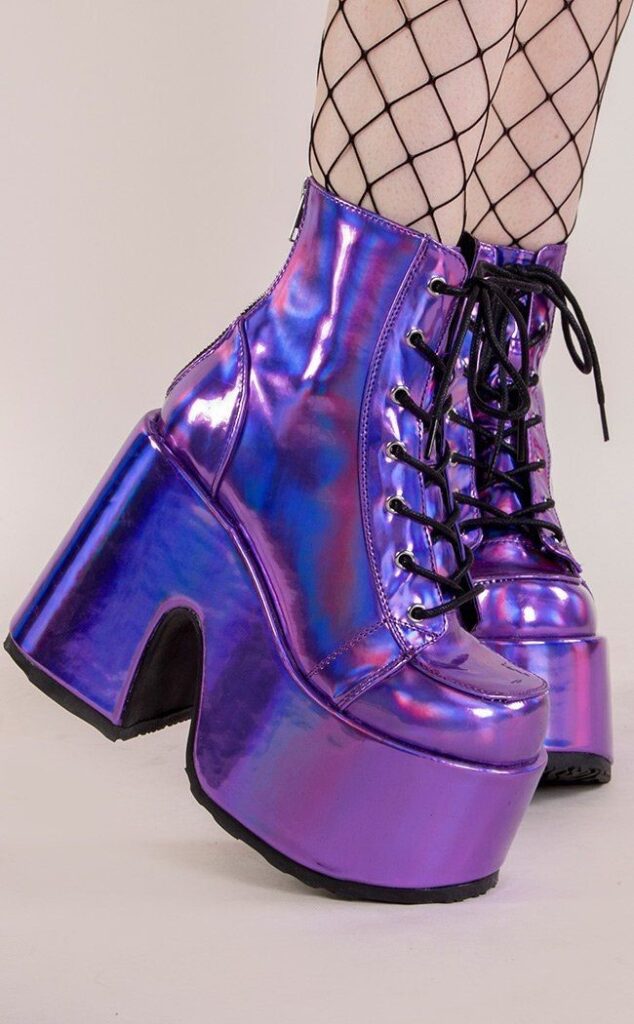 Platform Boots by tragic beautiful on Pinterest
Wide-Brimmed Hats
Top off your Stevie Nicks-inspired ensemble with a wide-brimmed hat. It's an effortlessly chic accessory that adds a touch of mystery to any outfit. Opt for a floppy hat with a bohemian flair to complete your outfit.
Fedora Hat Wide Brim Hat by Etsy on Pinterest
Layered Necklaces
Embrace your inner gypsy with layers of necklaces that tell a story. Mix and match pendants, chains, and crystals for a boho-chic vibe.
Star Pendant Layered Necklace by SHEIN on Pinterest
| Accessories | Description |
| --- | --- |
| Wide-Brim Hat | Adds a touch of boho and mystery to the look. |
| Layered Jewelry | Multiple necklaces, rings, and bracelets. |
| Fringe Bag | Bohemian-inspired bag for a complete look. |
| Oversized Sunglasses | Exudes Stevie Nicks' iconic style. |
| Shawl or Scarf | Draped over shoulders for a dramatic effect. |
Table: Essential Accessories for a Stevie Nicks Look
Velvet Everything
Stevie's love affair with Velvet is legendary. From dresses to jackets, incorporating velvet pieces into your wardrobe adds a touch of luxurious rock 'n' roll glamour.
Noble Velvet by Panaz on Pinterest
Statement Belts
Cinch your waist and amp up your outfit with a statement belt. Whether adorned with studs, beads, or intricate designs, it's an essential element of Stevie's eclectic style.
Gypsy Skirts
Twirl and dance like Stevie in a flowing gypsy skirt. Opt for rich, earthy tones and intricate patterns that capture the essence of her wanderlust spirit.
Wrap Skirt 'Kesali' by Umanomad on Pinterest
Bohemian Jewelry
Load up on chunky rings, dangling earrings, and beaded bracelets. Stevie's jewelry choices are a perfect mix of mystical and free-spirited.
Bohemian-style Jewelry by Treasure Jewelry on Pinterest.
Lace-Up Bodysuits
Channel Stevie's rock-star edge with lace-up bodysuits that exude confidence and femininity. Pair them with flowing skirts or high-waisted jeans for a bold statement.
Black Lace Up bodysuit by pretty little things on Pinterest
Vintage-Inspired Kimonos
Embrace the art of layering with vintage-inspired kimonos. These versatile pieces can be thrown over dresses or jeans for boho glam.
Vintage-inspired paisley kimono by Etsy on Pinterest
Dramatic Capes
Unleash your inner enchantress with a dramatic cape that commands attention. Whether sheer, embroidered, or velvet, capes are a Stevie-approved way to enter.
Vintage Victorian Cape by eBay on Pinterest
A Crochet Top
A crochet top gives off a vintage '70s vibe perfect for channeling Stevie Nicks' style. Opt for breezy crop tops or granny square tank tops that are comfortable and breathable for an outdoor concert.
Choose a color combination and fit you love, and look for crochet tops made from organic cotton yarn for a sustainable option.
Granny Square Crochet Top by Etsy on Pinterest
Distressed Denim
Balance out the romantic elements of your Stevie Nicks wardrobe with a touch of rock 'n' roll. Distressed denim jeans or jackets bring a rebellious edge to your ensemble.
Distressed Denim Full-Length Vest by the sweet peach boutique on Pinterest
Vintage-Inspired Boots
Finish off your look with vintage-inspired leather boots. Whether ankle or knee-high, these boots are essential for channeling Stevie's effortlessly cool vibe.
Vintage Patterned Ankle Booties by SHEIN on Pinterest
There you have it, folks—15 wardrobe staples to help you embrace the Stevie Nicks experience with confidence and style. Mix and match these pieces to create magical ensembles that pay homage to the queen of rock mystique.
| Footwear | Description |
| --- | --- |
| Ankle Boots | Edgy and comfortable for standing and dancing. |
| Platform Sandals | Adds height and complements boho outfits. |
| Knee-High Boots | Perfect for a rock-inspired ensemble. |
| Embroidered Flats | Enhances a feminine and folkloric look. |
| Lace-Up Booties | Combines style and comfort for the event. |
Table: Footwear Options for a Stevie Nicks Concert
Hair And Makeup: Completing The Stevie Nicks Look
Boho Hairdos: Achieving Stevie's Signature Wavy Locks or Braided Styles
Alright, wild spirits, let's talk hair! Stevie's hair is like a waterfall of ethereal waves; we're here to help you catch that wave. Start by curling your hair with a large-barrel curling iron to score her signature wavy locks.
Once you're done, tousle those curls with your fingers and add a touch of sea salt spray for that windswept boho vibe.
Feeling more like a braided bohemian? Channel your inner witchy wanderer by weaving your hair into loose, carefree braids. Pull a few strands around your face to frame it like a masterpiece. Don't worry if it's not perfect – remember, Stevie's magic lies in her effortless charm.
Mystical Makeup: Enhancing Your Features with Smoky Eyes and Bold Lips
Time to add some charisma to those peepers! Stevie's eyes are windows to another world, and you can bring that vibe to life with smoky eyes that tell a tale of secrets and dreams. Start by blending deep shades of charcoal, navy, or plum onto your eyelids.
Let those colors dance together in a sultry haze, and don't be afraid to smudge that eyeliner for that lived-in allure.
Now, let's talk lips. Stevie's pout is as bold as her spirit, so reach for those deep, enchanting shades of burgundy, plum, or black. Line your lips for a dramatic edge and fill them with your chosen shade. Trust us; your lips will be the topic of mystical legends.
And there you have it, fellow seekers of the Stevie Nicks aura! With these boho chic hairdos and mystical makeup tricks, you're ready to enchant the world with your rock 'n' roll fairy tale.
FAQs
Can Men Also Capture Stevie Nicks' Style?
Absolutely! Men can embrace Stevie's vibe by wearing flowy shirts, wide-legged pants, and layered jewelry. Don't shy away from lace-up boots and unique hats to complete the look.
Are There Specific Colors that Are Associated with Stevie Nicks' Style?
Stevie often gravitates towards earthy tones like deep blues, rich burgundies, and moody blacks. Feel free to mix in metallics or jewel tones to add a touch of magic to your outfit.
Are There Any Clothing Items Or Materials to Avoid Wearing to A Stevie Nicks Concert?
Yes, when choosing an outfit for a Stevie Nicks concert, it's best to avoid sports jerseys, ultra-modern attire, business formal wear, excessive neon colors, overly casual t-shirts, sneakers or flip-flops.
Additionally, try high-tech accessories, extremely structured dresses, generic fashion trends, and heavy winter outerwear. Aim for a bohemian, vintage-inspired look that reflects Stevie's enchanting style.
Are Flower Crowns Still In Style For A Stevie Nicks Concert?
Absolutely! Flower crowns add a whimsical touch and pay homage to Stevie's flower-child era. Opt for a crown adorned with wildflowers or feathers to capture that enchanting essence.
Wrapping Up
And there you have it, fellow music enthusiasts and fashion adventurers! Dressing up for a Stevie Nicks concert is like diving headfirst into a bohemian treasure chest.
Remember, there's no rulebook here – only good vibes and limitless style potential. So whether you're vibing with velvet and lace or rocking a modern twist on Stevie's iconic look, the key is to have fun and let your personality shine.
As you belt out the lyrics to "Gypsy" and sway to the rhythm of "Gold Dust Woman," your outfit will be an extension of the enchanting experience of a Stevie Nicks concert.