Are you considering taking up pole dancing classes? If so, it's essential to revamp your wardrobe with suitable attire. To help you make the most of your pole dancing experience, we've compiled a list of perfect picks that complement your style and provide comfort for your classes.
While your favorite boutique dress or fancy pants may be great for other occasions, they might not be the best fit for pole dancing. Instead, opt for trendy pieces that allow you to move freely and confidently.
So, join us on a journey to explore some trendy and easygoing options that will complement your pole dancing skills perfectly. Keep reading to upgrade your pole dancing wardrobe in the most fabulous way possible!
How to Decide What to Wear to a Pole Dancing Class?
With so many options on the market, it might be challenging for beginners to decide what to wear to a pole dancing class. Here are some essential things to consider revamping your closet for that fresh batch of pole dancing class.
KEY TAKEAWAYS
Opt for trendy and flexible outfits that allow free movement while ensuring comfort and style in your pole dancing class.
Choose stretchy materials, well-fitting tops, and bottoms that provide adequate skin exposure for a secure grip on the pole, all while expressing your unique flair.
Material
Various Cotton Stretch Satin Fabrics by Etsy on Pinterest
Go for clothing that is specifically made of good stretchable material. Breathable materials like spandex would allow you to move quickly without causing any hindrance.
Fitting
Woman Wearing Fitted Pole Dress by Etsy on Pinterest
Make sure your clothing for a pole dancing class fits you well. Baggy or loose-fitted clothes might not let you practice your moves freely.
Color Coordination
Neon Colored Pole Dancing Dress by Etsy on Pinterest
There is no such color code to follow while visiting a pole dancing class. However, as pole dancing requires a lot of physical strength, get ready for excessive sweating. Because of this reason, it is always a good idea to pair a dark shirt with light color shorts.
Grip
Mint Green Workout Set by Shein on Pinterest
To ensure a secure grip over the pole, it is important to have adequate skin exposure. For this reason, many pole dances would opt for shorts paired with tank tops.
Choose Comfort Over Styling
Women Practicing at Miami Pole Dance Studio
Last but not least, choose what makes you feel comfortable while practicing the skill. After all, you don't want to end up wearing something just because it looks trendy.
Tops That Will Look Chic at a Pole Dancing Class
When choosing tops for your pole dancing class, make sure that they look trendy and provide comfort at the same time. Here are some stylish top choices that will definitely make you stand out in your pole dancing class.
| Attire | Description |
| --- | --- |
| Sports Bra | Provides support and freedom of movement. |
| Pole Shorts | Offers grip and allows for fluid movement. |
| Leg Warmers | Keeps muscles warm and adds style to the look. |
| Heeled Shoes | Enhances leg extension and adds elegance. |
| Knee Pads | Protects knees during floorwork and tricks. |
Table: Essential Pole Dance Attire
Stretchy Crop Top
Solid Crop Tops by Shein on Pinterest
Stretchy crop tops are actually the best kind of tops you can wear to a pole dancing class. They are trendy, breathable, and stretchable, allowing you to move without any issues. Some cool colors you can go for might include a gothic black or a green on the days when you are feeling funky.
Sports Bra
Colorful Sports Bra by OTPClothing
A sports bra is the most comfortable top for a pole dancing class. It firmly supports your back and chest area to let you flexibly glide along the pole. And the best part is that it can be paired with almost anything: Shorts, skirts, or even your bodysuit.
Linen Dress Shirt
Best Outfits for Pole Dancing by Panaprium
A linen dress shirt will bring a laid-back yet stylish look to your pole dancing class ensemble. It offers a relaxed fit with plenty of freedom for movement. Pair them up with shorts of your choice to get that sexy look.
Tank Tops
Racerback Tanks by ClubFitWear
If you are someone who is a little bit conscious about their tummy, then a tank top would do the work for you. You can find them in stretchable and breathable materials allowing you to dance your heart out at the class.
Flowy Summer Dress
Pole Dance Wear by Etsy on Pinterest
A beautiful flowy summer dress is another fantastic top to opt for a pole dancing class. Summer dresses are awesome. They are made of lightweight fabric and let you move freely without restricting your movement.
Long-Sleeve Crop Top
Women's Crop Top by Amazon on Pinterest
Now, if your pole dance class gets chilly at times, you can go for a long-sleeve crop top then. This pick is stylish and also warm on days when the weather feels low.
Funky T-Shirt
Oversized T-shirt by Boohoo on Pinterest
You can never go wrong with a funky t-shirt for a pole dancing class. T-Shirts are already very comfy, and when paired with shorts of your desire, they look absolutely trendy.
Bodysuit
Bodysuit Pack by Amazon on Pinterest
For a sleek look, wear a bodysuit to your pole dancing class. Say goodbye to your top shifting upwards during intense movements with a modish bodysuit.
Bottoms That Will Rock at a Pole Dancing Class
Now that you have explored the stylish tops to wear to a pole dancing class let's select the perfect yet trendy bottoms. Here are some amazing bottoms you must include in your wardrobe before enrolling in a pole dancing class.
Denim Shorts
High Waist Denim Shorts by Sungirs on Pinterest
Look for stretchy denim shorts that provide maximum flexibility as you practice your moves. Overall, denim shorts will give that edgy and casual look to your pole dancing class OOTD.
Stretchable High Waist Shorts
Sweat Shorts by Posh on Pinterest
Stretchable high-waist shorts are often recommended by professional pole dancers because of their secure fit while providing an enhanced silhouette. Additionally, it also allows you to glide along the pole gracefully.
Skirt and Shorts Combo
Ballet Dance Skirts by Etsy on Pinterest
A skirt and shorts combo, also known as a skort, is another stylish bottom to wear to a pole dancing class. It is a versatile choice that provides the elegance of a short and flexibility of shorts. It's like getting two garments in one, which adds significant value to your pole dancing wardrobe.
Shoes You Can Wear to a Pole Dancing Class
Here are some wonderful shoe collections to pair with your dress while attending a pole dancing class.
| Shoe Style | Description |
| --- | --- |
| Platform Heels | Offers height and stability for dancing and spinning. |
| Ankle Boots | Provides ankle support and stylish coverage. |
| Stilettos | Emphasizes leg extension and elegance. |
| Clear Shoes | Matches any outfit and enhances visual appeal. |
| Lace-Up Shoes | Offers a customizable fit and unique look. |
Table: Choosing the Right Pole Dance Shoes
Rubber Shoes
Importance of Dance Shoes by School of Ballet
Rubber shoes offer good grip and support while making moves. Look out for shoes that are light in weight and flexible so they won't restrict your movement.
High Platforms
Cinderella Heels by Foxy and Beautiful on Pinterest
Platform heels are designed exclusively for pole dancing. These shoes typically have a transparent acrylic platform, and offer added height, elongating your legs while providing grip on the pole. But friends get these only when you are an advanced-level pole dancer; otherwise, you might experience some tacky slips.
Stiletto Heels
Ankle Strap High Heels by Luulla on Pinterest
For individuals with greater expertise in pole dancing, stiletto shoes with ankle straps are another choice. These heels are exquisite and appealing, making them ideal for more advanced dance routines and performances.
Best Combination to Wear to a Pole Dancing Class
Don't know what combination of top and bottom to wear to a pole dancing class? Worry not, as we have compiled a bunch of combos you can readily have to a pole dancing class.
Shorts with Tank Top – Best Combination for Beginners
Women's Summer Outfit by a.co on Pinterest
When starting with pole dancing, you need to establish maximum skin contact with the pole. For this reason, a pair of shorts with a cutesy tank top is an amazing combination. It lets you appear trendy and provides enough space to move swiftly along the pole.
Shorts with Sports Bra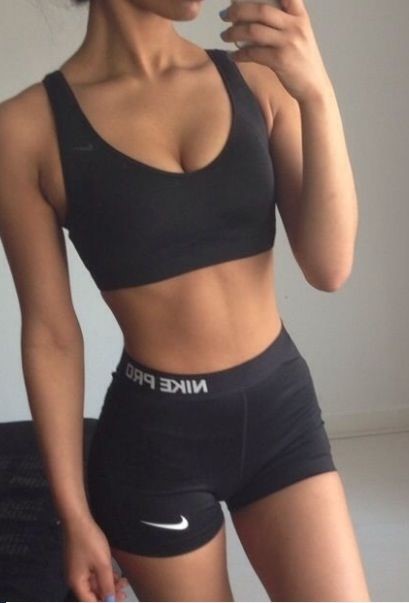 Nike Sports Bra by Shop Style on Pinterest
Another funky combination to wear to a pole dancing class is shorts with a sports bra. This OOTD allows dancers a comfy fit while providing much room for quick movements.
Bodysuit with Ballet Slippers
Pink Sleek Bodysuit by Jojo L on Pinterest
This is our favorite combo; honestly, this attire will make you look stylish without any effort. To elevate the ensemble further, pair it with ballet slippers, and you are good to go!
Accessorizing for Pole Dancing
| Accessories | Description |
| --- | --- |
| Fingerless Gloves | Adds grip and style to hands and wrists. |
| Body Chains | Enhances body lines and adds a glamorous touch. |
| Hair Accessories | Keeps hair away from the face during spins. |
| Leg Garters | Adds a sensual touch and complements shorts. |
| Body Glitter | Adds sparkle and highlights body movement. |
Things You Should Not Wear to a Pole Dancing Class
Here are some important things to avoid wearing to a pole dancing class:
Never wear them to a pole dancing class, as they can feel slippery and will hinder your movements.
Do not wear jewelry like rings, bracelets, or chains to a pole dancing class. These pieces can get tangled while practicing moves, thus not letting you master your movements.
Avoid wearing trousers to a pole dancing class as it can get uncomfortable.
FAQs
Can I Wear Leggings to a Pole Dancing Class?
Yes, you can wear leggings to a pole dancing class without compromising your grip. Make sure the leggings you wear are made of silky material like polyester so you can stretch effectively. Moreover, getting a number smaller than your actual size is always a good idea.
Do I Need to Prepare My Body for a Pole Dancing Class?
No, you do not need to prepare your body for a pole dancing class; everyone can enroll in it. However, you need to strengthen your body to master the moves at various levels.
Can I Wear Skinny Jeans to a Pole Dancing Class?
No, you cannot wear skinny jeans to a pole dancing class. These highly fitted clothes might come in the way of making moves. Moreover, they are also not good at gripping the pole, so wearing skinny jeans to a pole dancing class is not a good idea.
Which Hairstyle Will Look Good to a Pole Dancing Class?
A sleek bun will look good for a pole dancing class. It is an excellent way not to let hair come your way while practicing moves. You can experiment with a high-raised bun or a bun at the lower end of your head.
Wrap Up!
Now that you know the perfect attire for a pole dancing class, you can confidently embrace the dance with style and comfort. So, get ready to rock those spins, slay the pole, and have a fabulous time while feeling your best.
Remember, it's not just about the moves; it's about expressing yourself and having fun in the process. So, grab your pole wear, dance with flair, and let your inner confidence shine! Happy dancing!