When the beats start playing and the crowd gets hyped, what you wear reflects the energy in the air. So whether you're a die-hard fan or just eager to embrace the urban vibe, searching for the perfect concert outfit is an exciting journey.
From sneakers that allow you to move and groove to distressed jeans that capture the edgy feel of the music genre, get ready to put together a concert look as vibrant as the music itself.
In this guide, we'll dive into the Kendrick Lamar concert fashion world, exploring fashionable and expressive clothing options that let you stand out while feeling comfortable and confident.
KEY TAKEAWAYS
For a Kendrick Lamar concert, opt for a cool and urban-inspired ensemble.
Consider wearing distressed jeans or joggers with a graphic tee or hoodie.
Complete the look with comfortable sneakers, a snapback hat, and some statement accessories like chains or wristbands to channel the hip-hop vibe.
What to Wear to a Kendrick Lamar Concert?
| Outfit Style | Women's Attire Ideas | Women's Accessories | Men's Attire Ideas | Men's Accessories |
| --- | --- | --- | --- | --- |
| Sporty Chic | Oversized Hoodie, Biker Shorts, Sneakers | Baseball Cap, Crossbody Bag | Graphic Hoodie, Track Pants, Sneakers | Snapback Cap, Chain Necklace |
| Street Swagger | Cropped Hoodie, Cargo Pants, Chunky Sneakers | Statement Earrings, Baseball Cap | Graphic Tee, Cargo Joggers, High-Tops | Sunglasses, Beanie |
Table: Urban Streetwear Inspired Outfit Ideas
Sneakers
Prepare yourself to step onto the concert floor with a touch of flair, sporting those iconic sneakers. They provide comfort, and sneakers have become a fashion symbol, effortlessly merging urban style with functionality.
Whether you opt for the timeless white sneakers, offering a blank slate to complement your outfit or the bold and vibrant kicks that demand attention, there is a sneaker for every concert enthusiast.
These versatile shoes are designed to endure hours of dancing and enable you to fully immerse yourself in the lively ambiance of the concert while maintaining your fashion-forward appearance.
Ripped Denim Jacket
A worn-out denim jacket can be your secret weapon to achieve an edgy and effortless look. The strategically placed rips and frays instantly add a cool factor to any outfit.
You can casually throw it over a graphic tee or a tank top to instantly elevate your style in line with Kendrick's urban vibe. As the concert continues, you can simply tie the jacket around your waist for a relaxed and easygoing approach, demonstrating your fashion sense and ability to adapt to the dynamic atmosphere.
Cargo Pants
Cargo pants combine functionality and style effortlessly, making them a must-have for Kendrick Lamar's concerts. These pants come with multiple pockets, allowing you to carry all your essentials while enjoying the music without any restrictions.
Wear a fitted silhouette rather than a baggy look for a more polished appearance. Pair them up with a well-fitting top to achieve a well-balanced overall look. This blend of practicality and fashion ensures you can confidently navigate the concert setting while showcasing your unique style.
Distressed Jeans
Distressed denim is a popular option to achieve a comfortable and stylish look. The deliberate rips and worn-out details add an urban, grunge-inspired vibe to your outfit.
Pair these jeans with anything from a cozy hoodie to create a versatile ensemble that reflects the genre-defying essence of Kendrick's music. Whether you choose a lighter or darker wash, the distressed jeans will enhance your concert-ready appearance effortlessly.
Baseball Cap
Enhance your concert attire by selecting a well-chosen baseball cap. This versatile accessory adds a casual touch and shields your eyes from the bright stage lights.
Choose one that reflects your style, whether it showcases Kendrick's logo or comes in a solid color that complements your outfit. By wearing this timeless accessory on your head, you demonstrate attention to detail in your ensemble, which speaks volumes about your fashion-savvy approach.
Athletic Leggings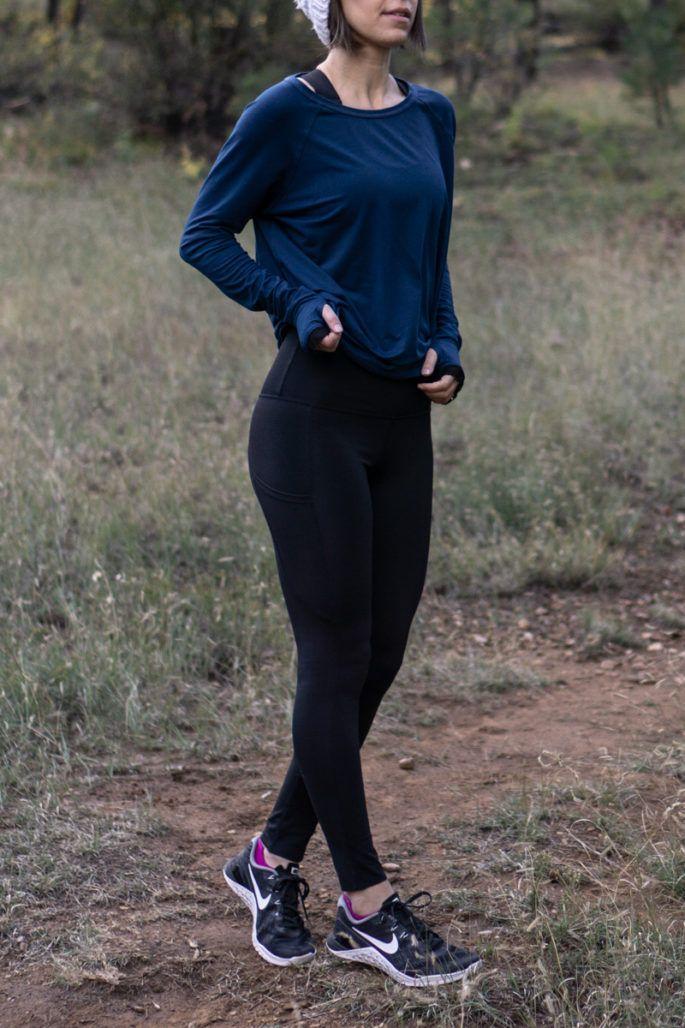 Athletic leggings are perfect for individuals who desire style and comfort. Whether you're grooving at a Kendrick Lamar concert or any other event, these leggings offer the freedom to move without any limitations due to their fabric and flexible design. Moreover, their sleek silhouette ensures you stay on trend while enjoying the performance.
Pair your leggings with a tee or a trendy crop top to create an athleisure-inspired ensemble that reflects the concert's energy. You effortlessly navigate the concert space by donning leggings, prioritizing comfort and fashion-forwardness.
Read More : Flare Leggings Style Guide
Retro Hip-Hop Style
The foundation of retro hip-hop fashion is a pair of loose-fitting jeans that pay tribute to the oversized and carefree trends of the 90s. Opt for denim that offers ample room and comfort, allowing it to sit slightly lower on your hips for an authentic urban touch. Embrace light washes or faded styles to capture the vintage essence of that era.
| Outfit Style | Women's Attire Ideas | Women's Accessories | Men's Attire Ideas | Men's Accessories |
| --- | --- | --- | --- | --- |
| Relaxed Vibes | Graphic Tee, Jogger Pants, Slides | Chain Necklace, Bucket Hat | Graphic Tee, Jogger Pants, Slides | Baseball Cap, Watch |
| Denim Drama | Denim Jacket, Crop Top, Distressed Jeans | Hoop Earrings, Chunky Sneakers | Denim Jacket, Graphic Tee, Baggy Jeans | Snapback Cap, Chain Necklace |
Table: Hip-Hop Inspired Casual Outfit Ideas
Select a generously sized graphic t-shirt that showcases your musical preferences, whether it features album art or lyrics from Kendrick Lamar or pays homage to other influential artists from that time. The t-shirt should drape over your jeans effortlessly, giving off a genuinely retro vibe. The graphic tee is a canvas for self-expression, displaying your love for hip-hop culture.
Regarding footwear, don't hold back—chunky sneakers are essential. These bold and attention-grabbing shoes perfectly embody the spirit of 90s street style. Seek out sneakers with intricate designs, striking color combinations, and a chunky sole that makes a statement with every step you take.
Tank Top
To fully enjoy the electrifying vibe of a Kendrick Lamar concert, it's essential to feel at ease and relaxed. That's where a tank top comes in handy – it's a straightforward yet trendy option that effortlessly combines comfort and style.
You can choose between a timeless plain tank or a bold graphic print that reflects your love for Kendrick's music. This laid-back garment ensures comfort during the most high-energy moments of the concert while demonstrating your commitment to merging comfort with fashion-forward choices.
Classy Hand Bag
A sophisticated handbag goes beyond being a fashionable accessory; it represents refined taste and meticulous attention to detail. Choose a design that radiates elegance through its clean lines, high-quality materials, and meticulous craftsmanship.
Despite its elegant appearance, a sophisticated handbag is also practical, providing ample space to carry your essentials while keeping your hands free to dance, cheer, and fully immerse yourself in the concert experience.
Sophisticated handbags come in various styles, allowing you to discover one that aligns with your sense of aesthetics. Whether a sleek clutch or a well-structured tote, they can all add elegance to your Kendrick Lamar concert ensemble. Consider opting for a bag in a neutral color or a versatile shade that complements your outfit seamlessly, ensuring it effortlessly blends with your overall look.
FAQs
Is it OK to Wear A Hoodie to A Concert?
Yes, wearing a hoodie to a concert is perfectly okay and quite common. Hoodies offer comfort and style, making them a versatile choice for various concerts and music events. Whether attending a Kendrick Lamar concert, a rock show, or an indie performance, a hoodie can be a great addition to your concert outfit.
Hoodies have a casual and relaxed vibe that suits the laid-back atmosphere of many concerts. They effortlessly capture the essence of a music event where people come together to enjoy the music and the company of fellow fans.
Does it Matter What I Wear to A Concert?
You don't have to feel obligated to conform to a specific dress code. Prioritize wearing something that aligns with your comfort and confidence. It's often suggested that your attire at concerts can reflect the style associated with the music genre. However, the key remains in selecting an outfit that resonates with your style and makes you feel at ease.
It's true that specific music genres tend to have distinct fashion trends, but your outfit choice is ultimately about how you connect with the music and atmosphere. Remember, your comfort and confidence should guide your decision on what to wear to a concert.
What Not to Wear to A Concert?
Considering the concert's location is crucial in your outfit selection. For outdoor concerts, tailoring your attire to the weather is essential. Conversely, indoor concerts call for attire that is moderately warm and relaxed.
Remember that indoor venues can heat up rapidly due to the crowd's presence, so excessive layers could lead to discomfort from sweating throughout the performance. Balancing your clothing choices with the concert's setting ensures you're both weather-appropriate and able to enjoy the experience fully.
Can I Wear All Black to a Concert?
When faced with uncertain situations, wearing all-black clothing is often a great decision.
The simplicity and coolness of this ensemble make it a perfect choice for concerts, especially when you receive a last-minute invitation. The versatility of black allows you to stand out effortlessly while maintaining a fashionable and understated appearance.
Whether it's a planned outing or an impromptu concert night, wearing an all-black outfit ensures that you'll have a stylish and confident look that complements the energetic atmosphere of the concert.
Final Thoughts
Going to a Kendrick Lamar concert is more than appreciating the music. It's also a chance to showcase your unique style. You can put together an outfit that fits perfectly with the lively and urban vibe of the concert by incorporating elements like sneakers, distressed denim jackets, cargo pants, or ripped jeans.
Don't hold back! Let your inner fashion enthusiast shine and prepare to rock the Kendrick Lamar concert with a touch of trendsetting flair.